The Revenge of the Radioactive Lady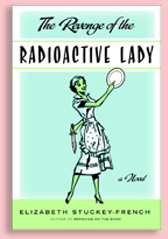 The Revenge of the Radioactive Lady listed as one of Chicago Tribune's best books of 2011!
The Revenge of the Radioactive Lady awarded a Florida Book Award for 2011!
The Revenge of the Radioactive Lady is Ladies' Home Journal Book Club pick for February 2013!
In this dark comedy wrapped inside a wacky family drama, a vengeful old lady is hell bent on murdering an even older man…who has lost his mind.
Seventy-seven year old Marylou Ahearn is going to kill Dr. Wilson Spriggs come hell or high water. In 1953, he gave her a radioactive cocktail without her consent as part of a secret government study that had horrible consequences.
Marylou has been plotting her revenge for fifty years when she accidentally discovers his whereabouts in Florida and her plans finally snap into action.  She high-tails it to hot and humid Tallahassee, moves in down the block from where a now senile Spriggs lives with his daughter's family, and begins the tricky work of insinuating herself into their lives. But she has no idea what a nest of yellow jackets she is stumbling into.
Before the novel is through, someone will be kidnapped, an unlikely couple will get engaged, someone will nearly die from eating a pineapple upside-down cake laced with anti-freeze, and that's not all…
Told from the varied perspectives of an incredible cast of endearing oddball characters and written with the flare of a native Floridian, this is a lively, intricately plotted, laugh-out-loud funny, and surprisingly touching family drama that combines the wit of Carl Hiaasen with the southern charm of Jill McCorkle.
The Revenge of the Radioactive Lady: A Story Behind the Story
Read an Excerpt from The Revenge of the Radioactive Lady
Essay by Elizabeth Stuckey-French posted on The Bird Sisters blog
Ladies Home Journal Book Club: An Open Letter from the Author
The Revenge of the Radioactive Lady Book Trailer
Buy the Book:
It's impossible not to love a novel that starts out with a 77-year-old lady planning cold-blooded murder, especially when the old lady in question is as charming and funny as Stuckey-French's Marylou. As she steadily worms her way into the world and family of her intended victim, this fast-paced and witty book expands to create a big-hearted, hilarious and touching portrait of a community. A lovely book."
– Dan Chaon, author of Await Your Reply
The Revenge of the Radioactive Lady is an often hilarious, always entertaining novel, but Elizabeth Stuckey-French has achieved much more. With remarkable wisdom and empathy, she has given us a profound meditation on what it means to be a family and the human heart's complex, sidling path toward forgiveness." 

– Ron Rash, bestselling author of Serena and One Foot in Eden
If you liked the film "Little Miss Sunshine," you'll absolutely LOVE The Revenge of the Radioactive Lady! Not only whacked-out and wonderful, this novel is secretly very damn serious, too, as well as up-to-the-minute contemporary and compelling. Elizabeth Stuckey-French brings her completely original voice and vision to the theme of family—-and revenge. I couldn't put it down."
– Lee Smith, bestselling author of The Last Girls and On Agate Hill
How wonderful it is to find a writer who perfectly captures the spirit of this crazy age: that bizarre and irreducible mix of high and low culture, of tragedy and comedy. This is no mean literary feat. And Elizabeth Stuckey-French achieves it brilliantly. The Revenge of the Radioactive Lady is not only a wildly entertaining novel, it is an important novel."
– Robert Olen Butler, Pulitzer Prize winning author of A Good Scent from a Strange Mountain
In The Revenge of the Radioactive Lady, Elizabeth Stuckey-French mines all the great stuff: love, heartache, family, revenge.  And then she offers a gift, one we desperately need: She lays bare what truly makes the quirky, necessary heart of forgiveness tick.  Grace and hard won wisdom flash through these funny, wonderful pages, leaving me to ruminate on three words: luminous, real, unforgettable."
– Connie May Fowler, bestselling author of How Clarissa Burden Learned to Fly and Before Women had Wings
The Revenge of the Radioactive Lady is populated exclusively by what used to be called oddballs, and therein lies its strength… A lesser writer would have made Marylou Ahearn more spritely, more lovable, would have defanged her hatred of Wilson Spriggs. We don't expect, in comic little-old-lady novels, to encounter childhood cancer, randy preachers and a boy building a homemade breeder reactor in a tool shed. But Stuckey-French knows that if you dig deep enough, we're all oddballs, and that the world is a perilous and unpredictable place."
– New York Times Sunday Book Review
Here is a portrait of a dysfunctional family painted against a broad backdrop of vital social issues. …Here are insightful riffs on pop culture and rants against American hypocrisy and superficiality. And yet Stuckey-French writes with such effervescence and treats her characters with such generosity that, at times, it's easy to forget that the author has far greater ambitions than merely entertaining readers."
– The Washington Post
Elizabeth Stuckey-French's new novel, The Revenge of the Radioactive Lady, is the sort of book that one devours quickly and then thinks, "I'll have another just like that, please." The trouble, of course, is that it's difficult to find another book quite like this one."
– The New Yorker
While the plot may hinge on revenge, the unpredictability of love is the true subject. It turns out to be the best kind of page-turner — one with heart."
– The Boston Globe
This is an absorbing, accomplished and, most importantly, generous book. And it might be argued that generosity, particularly in this political and literary climate, is more welcome than any radioactive cocktail of wackiness could ever be."
– San Fransisco Chronicle
Stuckey-French makes dysfunction work for her characters. They eventually come to terms in a gratifying way. Something remarkable is realized here. The book is flat-out funny, yet the injustice of the back-story keeps returning to mind."
– The Providence Journal
The Revenge of the Radioactive Lady gets a Publisher's Weekly Starred Review!Glowing with dark humor, Stuckey-French's fabulously quirky second novel (after Mermaids on the Moon) spotlights a wild would-be killer: Marylou Ahearn, a 77-year-old retired teacher in Memphis, Tenn. She's obsessed with killing Dr. Wilson Spriggs, who gave pregnant Marylou a radioactive cocktail in 1953 during a secret government study. Helen, the daughter Marylou gave birth to, died in 1963 from cancer. Accompanied by her Welsh corgi, Buster, and as "Nancy Archer" (the heroine of the 1958 movie Attack of the 50 Foot Woman), Marylou moves in 2006 to Tallahassee, Fla., where Wilson lives with his daughter, menopausal Caroline; her husband, Vic Witherspoon, who's contemplating an affair, and their children: 18-year-old Elvis-obsessed beauty Ava; 16-year-old science geek Otis, who's secretly building a nuclear breeder reactor; and overachieving, attention-deprived 13-year-old Suzi. As "Radioactive Lady," Nance creates mucho mischief for Wilson, but her revenge plans mutate after discovering the old doc has Alzheimer's, and dang it, she really likes his kinfolk. (Feb.)
The Revenge of the Radioactive Lady gets a Library Journal Starred Review!
"Mixing the suburban angst of Tom Perrotta (The Abstinence Teacher) with the snarky humor of Carl Hiaasen (Stormy Weather), Stuckey-French (Mermaids on the Moon) has written a page-turner that is thoughtful, amusing, and nearly impossible to put down.."
– Leigh Wright, Library Journal, Bridgewater, NJ
Marylou/Nancy's mission is to kill Spriggs, but the reality is that she's just a nice little old lady, not an overly large woman with super powers. Instead, she decides to wreak havoc upon the lives of Spriggs' family, to hilarious, and often sobering, ends in this broadly comic, yet essentially heartfelt, absurdist satire."
– Carol Haggas, Booklist
Stuckey-French channels her characters–including two mildly autistic teenagers–with precision and wit, weaving in wry insights about modern suburban life. The result is a smart and improbably cheerful tale about family that's actually quite sweet at its core."
– People Magazine
Revenge of the Radioactive Lady is a title that could have been used for 1950s-vintage pulp fiction. But modern dilemmas rule Elizabeth Stuckey-French's darkly funny novel that manages to deliver some sharp observations on the fruits of vengeance along the way."
– Denver Post
The story comes to a head during a hurricane… It is a destructive power that can leave in its wake either total devastation or a chance to wipe the slate clean. You'll want to stick around to see which way that wind blows and who survives it."
– Pittsburgh Post-Gazette
Stuckey-French expertly builds each character, even, eventually, the mysterious doctor's. The family's oddities are aftereffects of larger circumstances – Asperger's syndrome, guilt, and resentment – but the author sticks with a light, humor-infused voice throughout the book."
– Christian Science Monitor
Not necessarily the stuff of comedy, but Stuckey-French makes her domestic satire work precisely by not backing away from its darkness — and also by giving us characters who are complex and believable enough to stay with even when the going gets weird.
– St. Petersburg Times
Fast-paced, vibrant and quirky, this novel will surely win new fans for Stuckey-French this side of the border."
– Winnipeg Free Press
What starts out as a quirky revenge tale soon reveals its true heart as a startlingly honest portrayal of a family on the brink of self-destruction, and the woman who ultimately rescues them, even as she tries to be their undoing. By the end, she'll feel like part of your own family (just keep a careful eye on her, and let the dog test her desserts first)."
– Long Island Examiner
What's unsettling is that the plot is a goofy spoof based on a serious bioethical issue. One could feel guilty for being so effectively entertained."
– New Jersey Star-Ledger
The Revenge of the Radioactive Lady is surprisingly chipper as the neurotic and lovable cast turns a macabre tale into a wildly compulsive read"
– BookPage.com
If revenge is a dish best served cold, then Marylou Ahearn is serving up ice cream…A dark, humorous portrait of a dysfunctional modern family."
– Kirkus Reviews
quirky, darkly comic…"
– New York Post
…darkly funny and satirical, yet it contains a good message on the pitfalls of revenge."
– The Oklahoman
The Revenge of the Radioactive Lady, by Elizabeth Stuckey-French, is one amazing ride. Stuckey-French has chosen an avenging 77-year-old retired schoolteacher as her entrance into a kind of J.D. Salinger dysfunctional family. Throw in some Roald Dahl, and you get Stuckey-French's unique brand, an episode-filled combination of suspense and oddity with some realistic family drama as an underpinning."
– The Asheville Citizen-Times
In this cast of characters, Marylou seems to be the sanest one. The family's antics make this novel a humorous and fun read."
– Minneapolis Star Tribune