The First Paper Girl in Red Oak, Iowa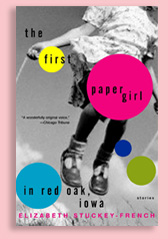 In this exuberant debut story collection, Elizabeth Stuckey-French lovingly portrays Midwestern angst with mordant humor and incisive understatement. Moved by mischief and desire, the eccentric but endearing characters in these stories walk a thin line between reality and delusion.
In "Junior," 13-year-old Sophie St. John completes her term at reform school only to be placed in the care of her psychic aunt who forces her to be an accomplice in a lucrative but shady dog-finding scheme. When Cherry sees her children "playing divorce" in the collection's title story, she awakens to the instability of her own marriage and charts a reckless course for adventure with a teenage gas attendant. In "Scavenger Hunt," a mother is secretly disappointed to learn that her son, a small-time thief, has been making good and working in a nearby restaurant, a far cry from the glamorous life on the lam she had imagined. And in "Leufredus," a rehab counselor lives vicariously through her already pregnant stepdaughter's love affair with a drunk who spends his days in recovery and his nights in the bar.
Full of wry wit, tender sympathy, and heartfelt attitude, The First Paper Girl in Red Oak, Iowa is as strange, funny and poignant as the real world it resembles.
The First Paper Girl in Red Oak, Iowa: A Story Behind the Story
A wonderfully original voice." – Chicago Tribune
Remarkable for its range, humor, and quirkiness." – USA Today
Inventive, irreverent and riveting…Elizabeth Stuckey-French's characters charge straight out of Middle America, one part wacky and two parts doomed. That they are also resilient and funny makes this extraordinary collection a delight to read." – Janet Burroway
The beauty of these stories is that we can either remember people we know who resemble her characters or breathe a sigh of relief that we don't." – Booklist
Destructive yet inescapable bonds of all kinds are woven throughout the book, along with the odd ways we employ strangers to break free…There are many marvelous peculiarities to be savored here." – US Weekly
I love Elizabeth Stuckey-French's uncommonly delightful stories, her generous eye for the blessings and yearnings, the lush melancholies and sweet quirks of corn-fed domesticity." – Bob Shacochis
Wonderfully imagined…Arrestingly unconventional characters and conflicts." – Kirkus Reviews
Buy the Book: