Where Wicked Starts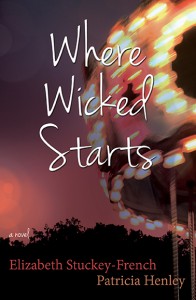 That's when I noticed the couple we later named Bony and Mr. Creep sitting two rows in front of us. He had his arm around her, not like a father would do, or like I imagined a father would do—slinging his arm over the back of her chair. No, his arm was around her shoulders like she was his date. Bony kept wriggling but he would just grip her harder. Finally she gave up and sat still.
He leaned over and licked her cheek.
When stepsisters Nick and Luna suspect that a girl they meet at a Florida alligator farm is being held captive, they enlist an older boy with a set of wheels to help rescue her. Their parents are too busy renovating a bed and breakfast to realize the girls are in real danger.
Where Wicked Starts: The Story Behind the Story
Buy the Book: